Spend the night at our haunted house complex and you'll see some of the best haunted houses in Wisconsin and have stories for a lifetime!
4
Full haunted attractions

Avg rating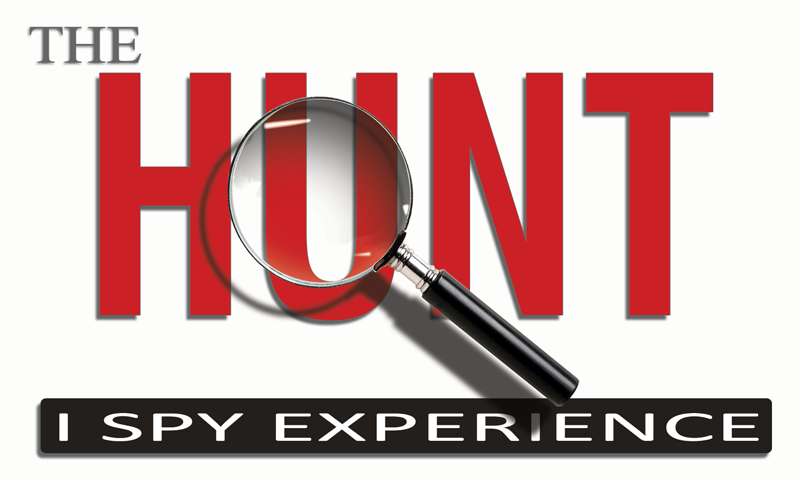 People are raving about our one-of-a-kind I-Spy experience. This high-action, non-scary, group game can test your group's speed and agility! Work as a team to find items. If your group finds the items in time, your group will all win FREE Quickpass Upgrades for each member of the group! Can you beat the goal in time?

Play and WIN FREE QUICKPASS UPGRADES! The upgrades are valid through next season, so no worry about using them right away.

We like to keep things fresh, so we've created a great, new way for you and your group to have fun! We have multiple game rooms where you and your group will experience high-action life-sized I Spy experience! A monitor will show you the item to search for and you will have a set amount of time to find that item in the room. Once you find it, enter the number into the computer to increase your score. See if your group has what it takes to beat the goal!

The best part—if you find the required number of items in time (the computer will tell you the goal before you begin each game), each person in your group will win a FREE QUICKPASS upgrades (valued at $15 each)!

NOTE:
— Tickets can be purchased directly at this event, located on the West (back) side of the building.
— Upgrade vouchers don't expire until end of next season, but do require a purchased ticket to upgrade.

Estimated event time: 5 minutes
FOUR Haunted house attractions all at one location Near me!
Spend the night – or come back multiple times, it's up to you.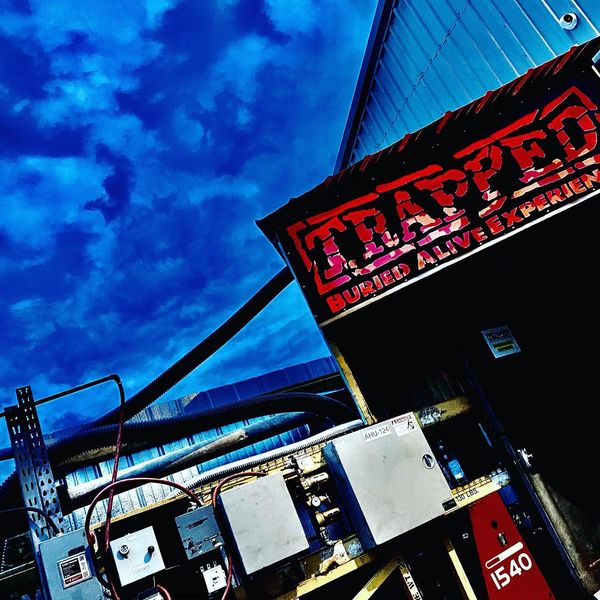 Trapped Buried Alive Experience
Customer favorite Immersive Experience

Trapped Buried Alive Experience is a fully-immersive experience that will let you feel what it is like to be buried alive (in a safe way, of course)!  It's an amazing experience that customers are raving about!
We've had the coffin rides for years and although they are fun, they are only Burial Simulators.  This is the BURIAL Chamber…We need to bury people!  So, we have created this awesome event where you and a group of up to 30 people will be buried with 80,000 germ-block, sanitized, plastic play pit balls!  This is a group experience that you and your friends will love! 

Estimated Event Time:  15-20 minutes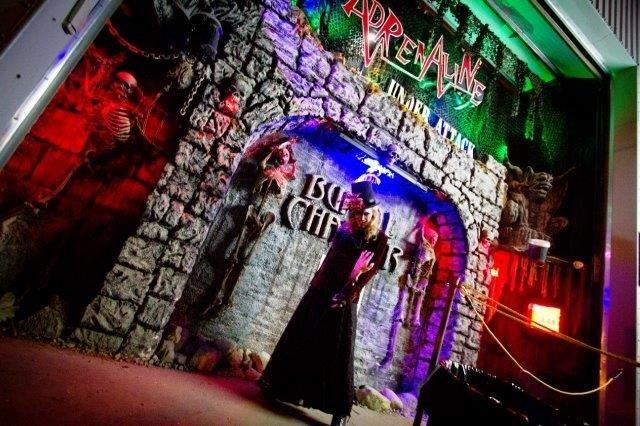 Adrenaline Haunted House
Customer favorite Dark Haunted House in Wisconsin

Adrenaline's haunted house will assault your senses on many levels. Adrenaline Haunted House is a huge old-school in-your-face haunted house. Large sets, animatronics, lasers, loud noises, strobes, water, and creatures coming from all angles with a wide variety of sounds and sets; you name it, Adrenaline has it. We WILL get your heart racing and it is sure to scare the crap out of you.

Please Note: Simulated gunfire may be used in this haunted house attraction
Estimated walk-through time: 20 minutes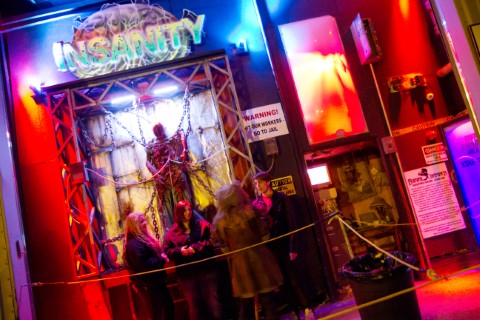 Insanity Haunted House
Customer favorite Interactive Haunted House

Insanity Haunted House, affectionately called "A Haunted House on Crack", will scare you mentally as well as physically. Crazy clowns, unique characters, interactive sounds, unusual environments, misdirection, as well as visual and mental sets force you to be part of the scenes. Step through the door and be prepared to enter the realm of the crazy people. Insanity is no ordinary haunted house– it's a blend of haunted house meets fun house. With it's unique props, unusual scenes, claustrophobia walls, spinning and crooked rooms, and interactive atmosphere, it's an experience that will definitely raise your blood pressure and have you come out entertained.

Estimated walk-through time: 20 minutes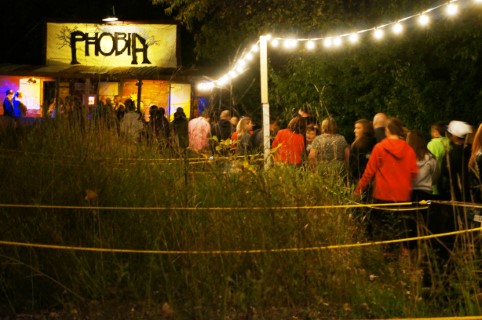 Phobia Haunted Woods
Customer favorite Outdoor Haunt

Phobia Haunted Woods is a wooded trail that makes you feel like you are part of a horror movie set in the woods. The natural fully wooded sets feature a combination of natural and physical environments that force you to be part of the show. Phobia is a blend of back woods meets chainsaw killers. The use of audible and visual interaction with our guests makes you constantly wonder who is watching you, where they are and are you really safe? People come from all angles to attack your senses and make it impossible to expect what lies ahead. The characters center on their prey and in this haunted house, that prey is you. Expect to see a wide variety of characters–and prepare to be hunted!

Estimated walk-through time: 20 minutes